Hi!  We are Aman Grewal and Pinder Mann.  We are the co-owners of Longevity Compounding Pharmacy located inside the Polo Health and Longevity Centre in the heart of New Westminster.  Here is our journey.
Pinder graduated from the UBC School of Pharmacy in 2000.  He then worked at various chain pharmacies in both Canada and the US.  After several years of working at other pharmacies, Pinder decided to open up his own.  In 2007, Pinder purchased an existing pharmacy in Langley. Through hard work and determination, Pinder managed to transform his business from a mediocre pharmacy to a successful community pharmacy loved by all the locals.
Aman graduated from the UBC School of Pharmacy in 2011.  He worked for a large pharmacy chain as a student and for a year as a registered pharmacist.  After a year working as a pharmacist, Aman realized that he was not completely enamoured with his chosen profession.  He found at big chain stores there was not enough staff which led to restricted time with his patients. In 2012, Aman found out that Pinder was hiring for a full time pharmacist at his store in Langley and he jumped at the opportunity.  Working at Pinder's store, Aman was able to learn and perfect the art of compounding. He also found himself working in a great atmosphere where he could spend the proper amount of time with his patients and impact the community that he worked in.
In 2015, Pinder and Aman decided to join forces and open up their own compounding pharmacy in New Westminster.
At Longevity Compounding Pharmacy we truly care for our patients.  We are dedicated to delivering the highest quality of pharmaceutical care. We are dedicated to serving the unique needs of physicians and their patients through custom prescription compounding.  Our compounding pharmacy uses the latest state of the art compounding equipment and technology; we can formulate and prepare any level of medicine specifically designed for you.
Our pharmacists can assist physicians in customizing medications. By compounding special formulations we can modify dosage form, create combination preparations and prescribed specific formulations and so forth. Talk to the experts at Longevity Compounding Pharmacy and we will be able to get you what is required for your specific patient needs.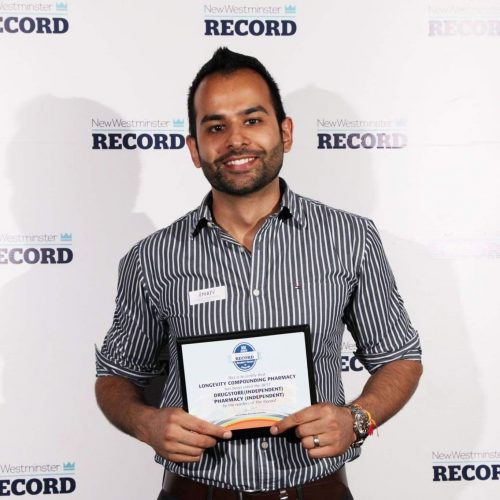 Aman Grewal, Co-Owner